The seventh part of Long Pelion Trail crosses the valley of Panagiotiko stream to connect the village of Milies with the coastal settlement of Afissos.
---
This is a long route which can be demanding to the hikers, due to the many ascends and descends. Most of the route follows a dirt road. However, the roads area very quiet with no traffic, offering a relaxing and enjoyable experience.

The route starts from the center of Milies towards the Panagiotiko valley, hosting the water reservoir which provides the villages of Southern Pelion with drinking water. Cross the artificial lake along the dam and continue to Afetes, then descend to the village of Afissos, a small and coastal area which provides solid accommodation facilities.
---
Distribution over
viability classes
Distribution over
elevation zones
---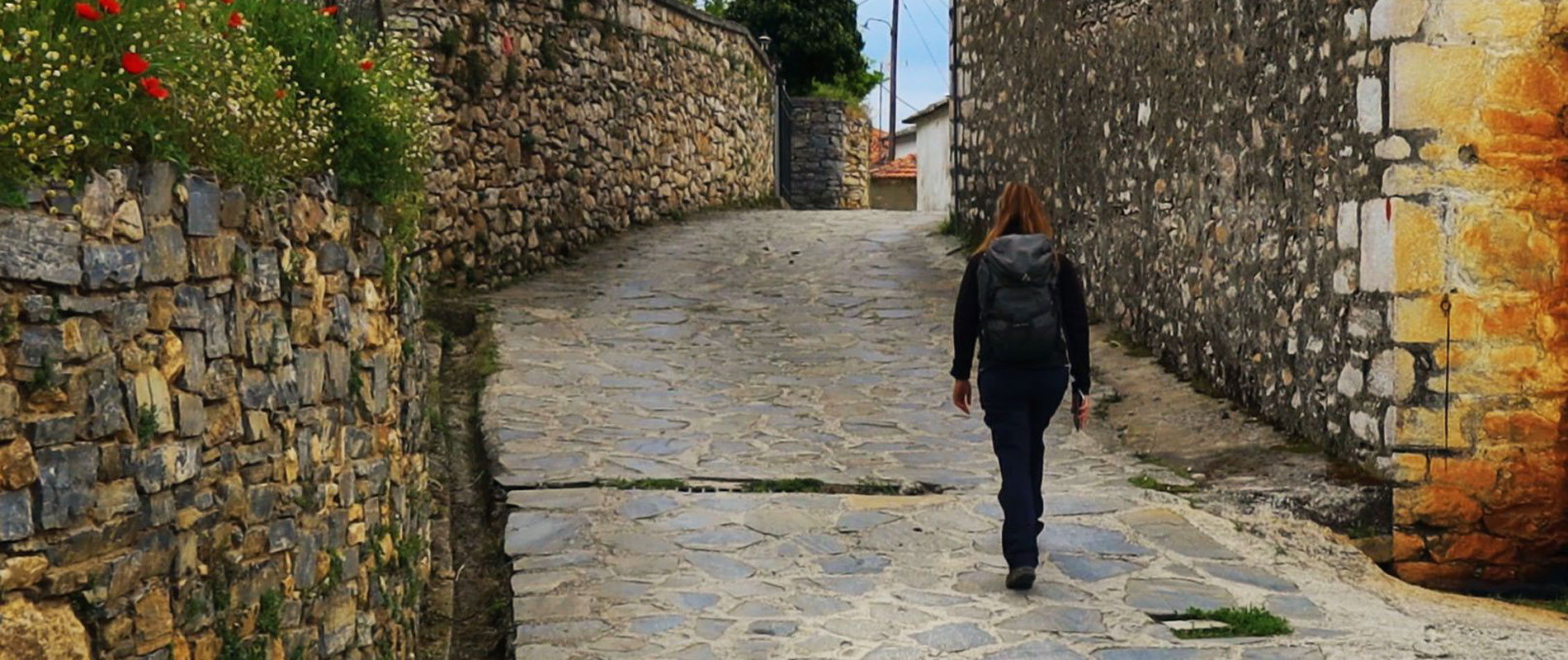 MONASTERIES - SETTLEMENTS
Afetes
Afetes is a quite large settlement, built at 300m altitude. The houses are spread amphitheatrically along two converging slopes and three verdand ravines, bridged with three stone-built arches. Five picturesque chapels, the paved square and the old olive-oil mill are some of the elements that urge the visitor to spend some time exploring the settlement. Impressive plane trees and the majestic church of Ioannis Prodromos with the gilded wood-carved iconostasis adorn the center of the village.
Afissos
It is a coastal settlement, which embraces a wide bay. According to legend, Jason and the Argonauts stopped here for food and water supply from the fountain that still waters the central square before continuing their journey to distant Colchis. For this reason the village square is called 'Argonauts'. It harmoniously combines an atmosphere on an island with the Pelion mountain features. In the mouth of the small river of Afissos, ruins of a fortress, tombs and remains of an aqueduct are witnessing to the long history of the settlement.
Monastery of Agios Nikolaos in Milies
Agios Nikolaos is an old monastery of the 18th c., built about two km east of Milea. A few ruins of buildings surround the church, which is the only part that survives intact to this day. The piched roof of the katholikon is covered with stone slabs. On the stone-built narthex, as well as on all the walls inside and outside the sanctuary, there is a rich hagiographic decoration. Characteristic depictions are Hades in the form of the beast as well as Jonah coming out of the whale. According to the says of the people of Milies, many monks lived in the monastery and there was a bookbinding workshop. The time of dissolution of the monastery is unknown.
Tips
Drinking water is available only at the villages.
Warnings
Most of the trail follows dirt roads and forest tracks.
There are several other local trials converging on the LPT route, some of them being waymakred with red marks. Keep follwing the LPT marks at the junctions.
The humidity of the ravine boosts the annual growth of vegetation: at Spreing, one may encounter some local obstacles (fallen trees, broken branches etc).